1902. Monet's staying at The Savoy
in the same rooms
occupied by Whistler a few years ago
and successfully avoiding
the denotive shackles of too exact a realism
in his paintings of The Thames,
busy adding extra bridges –
all his boatmen are named Charon
ferrying the dead
from shore to shore
Only winter will do for Monet
London wrapped
in that mysterious cloak of fog
and mist
created by London's basin situation
Only in winter
can Monet paint the Thames
without risking the overabundance
of verisimilitude
though unlike Turner
he does not resort to the trick
of making the world taller, buildings,
mountains, waterfalls,
but like Turner and Whistler
he offers us
(and so will Dufy)
a world (a Thames) of radiant precision
Look sharp Billy! Four portions of everything for M'sieur Monet!
Four portions of everything on the menu for M'sieur Monet!
Published in 'Four Portions of Everything on the Menu for M'sieur Monet!'
(Indigo Dreams Publishing, August 2016)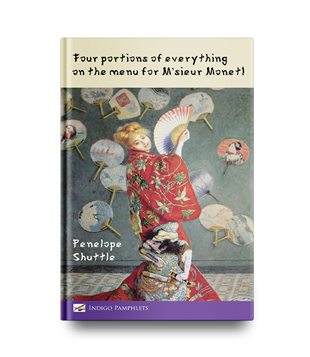 Four Portions of Everything on the Menu for M'sieur Monet!
By Penelope Shuttle. Published by Indigo Dreams Publishing, August 2016

Back in 2005 Penelope attended a Study Day at Tate Britain which focused on the Gallery's current
major exhibition, Turner, Whistler, Monet. She made some notes, filed them and promptly forgot about
them. A few years later they came to light in a notebook. Suddenly she found herself writing about
Monet in London. Monet was a man with a very hearty appetite.
Penelope had gone to the Study Day on her own, but more usually visit places with friends, or with
her daughter. In one of the poems Penelope was accompanied by her Great Aunt Wave, and it is 1955.
The common thread of the pamphlet is the visits she made and those experiences she encountered.
Sissinghurst, Paris, Lapland, Galway, Wales, and Rome, are some of those places explored. A set of
travelling poems capturing a sense of the energy she felt at each different locale.
White rose day
in a white garden
summer wilding in and out
of the pergolas of white jasmine
vestal hedges
and pom-pom dahlias
so lets sleep
have a little zizz
for a week or so shall we
in the white rose white rabbit garden
ah but he's not hurrying now
he's too sleepy
the lime-tree walk reveals
its keen green sense of humour
but then it yawns oh it yawns
sleepy questions flora and fauna never ask
are and are not answered
sleepy afternoon of Cloth-Hall dreams
boat-house snores
green scarab beetle winging-by
taking flight from Lady Macbeth's robe
in the white and wealden garden
why not have a lovely snoozy little sleep
at Zizzinghurzzzt
where the spiders reel in their sleepy suppers
and what was I sayingggggg
White Garden
Published in 'Four Portions of Everything on the Menu for M'sieur Monet!'
(Indigo Dreams Publishing, August 2016)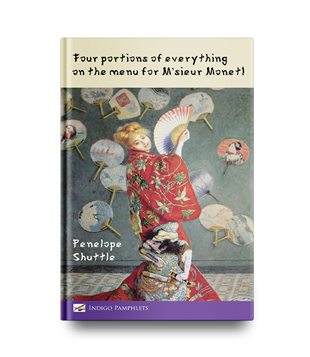 Cornwall Contemporary Poetry Festival
Will be held in Falmouth, from Thursday 22
to Sunday 25 November 2018
Penelope Shuttle has made her home in Cornwall
since 1970 and the county's mercurial weather and
rich history are continuing sources of inspiration.